Thursday, 15 November 2012
Dear SCOUT users,
Scout flasher v2.10 software is out!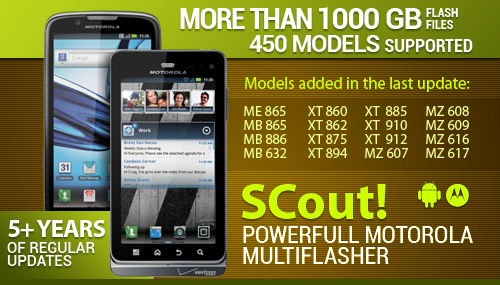 Scout is one of a kind phone flashing solution that is improved and updated on a regular basis for over 5 years from now and we're about to keep it that way. This time we've added support for the majority of Motorola phones!
With Scout flasher you get:
Support for the majority of Motorola models - from the latest to the oldest (now more than 450 models)
The biggest and fast-growing archive of firmwares for most Motorola phones (1000 + Gb compressed in size flash files)
Regular updates, improvements and support (5+ years of updates and support of the project)
Release Notes:
Scout flasher v2.10 was enhanced with Flash support for the following Motorola Android smartphones:
ATRIX 2 MB865
ATRIX 2 ME865
ATRIX HD MB886
DROID 3 XT862
DROID 4 XT894
DROID RAZR XT912
DROID RAZR MAXX XT912
DROID BIONIC XT875
DROID XYBOARD MZ609
DROID XYBOARD MZ617
MILESTONE 3 XT860
MOTO XT928
PRO+ MB632
RAZR V XT885
RAZR MAXX XT910
RAZR XT910
XT860 4G
XOOM 2 Media Edition 3G MZ608
XOOM 2 Media Edition with WiFi MZ607
XYBOARD with WiFi MZ607
XOOM 2 3G MZ616
Updated Communication library for Android-based phone models. This will allow you to work with a wider range of models.
Updated drivers for the P2K & Android-based phone models.
Added automatic flash log saving into the file (logs folder can be opened from the "Settings" tab)
Flash files for mentioned above models are getting uploaded to Boot-Loader v2.0 daily (overal over 75GB) It's right time to prolong the activation for another year of Boot-Loader 2.0 support!

SCout - discover how easy it is